"Fireworks" 12-4Pm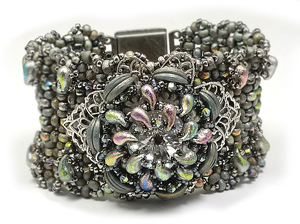 I do not have a name for this yet! So Wide Cuff it is, for now!
This is a wide cuff about 1.5 Inches.
You can make the center piece and create a cuff or make a pendant!
Classes are free, we just ask that you purchase your supplies here at Bead Haven. Approximate cost for the beads for this class are $60. If you need FireLine and needles, that would be extra. You can bring your own needles, stringing material, tools, and bead mats if you have them.
Class starts at noon. You will want to show up a little early to pick out your colors. Class usually lasts a few hours. You are welcome to stay longer to finish your project!