7:00pm Wine Tasting and Bracelet Class! Just $20!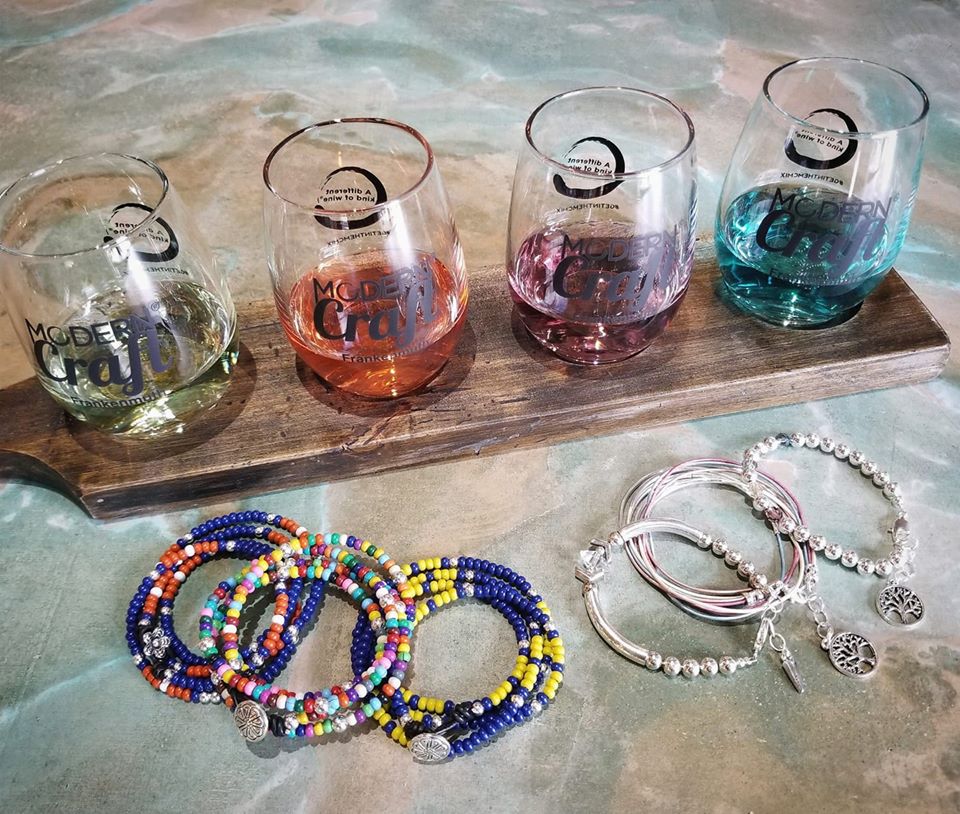 With the addition of Modern Craft Wine at Bead Haven we can now combine the two worlds for a perfect combination of jewelry making and wine tasting! For just $20 you will get four large samples of wine and you'll choose one of the four different styles of bracelets to make and take home! Great for a girls outing and even bachelorette parties!
Grab your girlfriends for a special date with us! We can seat a max of 10 people. Experience the hottest trending wine in Michigan with Modern Craft's assortment of fruit infused wines as well as a collection of traditional wines. You'll want to try some of our signature drinks like, Deck Days, made with peach wine and cranberry juice. As well as, Jamaican Cherry Bomb, made with cherry wine and Jamaican Ginger soda, a flavor explosion! And, just released Memorial Day Weekend, Pina Colada; an impressive blend of creamy coconut mingles with juicy pineapple for the ultimate pina colada parade! You will leave with a beautiful handcrafted bracelet made by yourself and plenty of memories! Classes last about an hour and don't forget to visit some of the other wine tasting shops right inside of the River Place Shops! There are also places to grab a bite to eat and you are just a short walk to downtown for other dining and shopping options.
To sign up: You will need to call the shop and pay for your entire reservation when signing up. Your group can also call separately and pay, but your seat is not guaranteed until paid for. Call for your spot today! 989-652-3566 You can pay with Visa, Mastercard, Discover, and American Express. Payment for your reservation is non-refundable if cancelled within 3 days of class.
Hope to see you!
***Upon arrival, visit us at the Bead Haven check out area to pick out your bracelet kit. We ask that you arrive 10 minutes before you class time to do this. You will then be seated with a wine menu where you can choose your favorite flavors. Drink, chat, bead and be happy!